G-learning Center
>
Education
>
G-CONSULTING GROUP ANNOUNCES SECOND EDITION OF CEO GCONNECT FORUM, COMPLETION OF GCONNECT TV DIGITAL STUDIO
G-CONSULTING GROUP ANNOUNCES SECOND EDITION OF CEO GCONNECT FORUM, COMPLETION OF GCONNECT TV DIGITAL STUDIO
February 22, 2022

Posted by:

glearningcenter

Category:

Education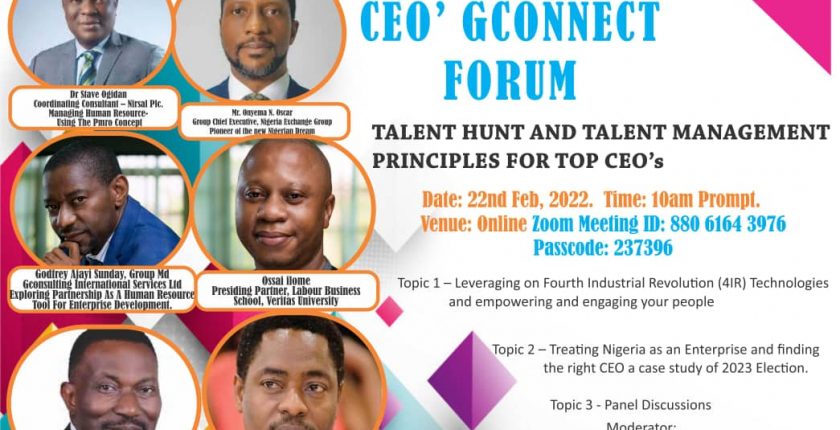 The Group Managing Director, G-Consulting International Services who recently returned from attending the African Business Conference organized by the BusinessDay Newspapers in Lagos and declared opened by the Governor of Lagos State, Sanwo Olu has announced the February 22, 2022 for the second edition of the much talked about CEO' GConnect Forum and the completion of the GConnect TV Digital Studio.
Flanked by members of the G-Consulting International Services Ltd management, the Group Managing Director (GMD), Mr Godfrey Ajayi Sunday stated that the second edition of the increasingly popular CEO GConnect Forum where Chief Executive Officers come together to learn and share experiences as well as provide support for one another leveraging the forum's strategic services will hold online with participants connecting from across the world.
He pointed out that his experience in attending the Africa Business (ABC) Conference gave him optimism in the objectives of the GConnect Forum as the quality of what he experienced in the just concluded conference was not much different from what is obtainable at the CEO Gconnect Forum.
Speaking during the press conference, the GMD stated that he will be sharing some of the lessons and experiences gathered from the ABC Conference with members of the CEO GConnect Forum during the program and urged members of the forum who have experiences to share as well in their various engagement that will benefit members to indicate interest by sending email to the forum's group email administrator for listing.
"Furthermore, we are excited to announce to the benefit of the forum's members and the public that we have completed our digital audio / visual studio. The studio which boasts of latest digital studio equipment and an aesthetic and comfy environment will help to power our GConnect Television Programs (GTV) which will air on youtube, and other social media channels and I want to urge members of the forum to take advantage of it", Mr. Godfrey stated.