G-CONSULTING Completes Facilitation of AGSMEIS Scheme for NEXIT Beneficiaries
April 19, 2022

Posted by:

glearningcenter

Category:

Education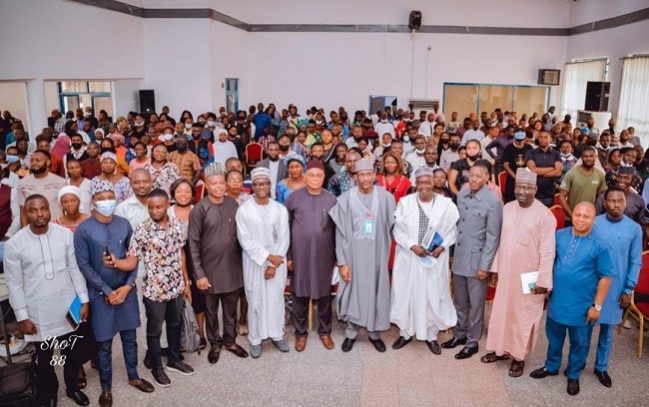 Trains about 4,000 beneficiaries in Lafia and Keffi
To provide mentorship and ancillary support services
G-consulting International Services recently completed the training of about 4,000 beneficiaries of the Federal Government of Nigeria's entrepreneurship and empowerment program for exiting N-power beneficiaries.
Earlier this year, having recognized the experience and expertise of G-consulting as one of the leading Private and Public Consultancy Service firm and the best Central Bank of Nigeria (CBN) accredited Enterprise Development Institute (EDI), the Federal Ministry of Humanitarian Affairs, Disaster Management and Social Development contracted the company to facilitate the training in Keffi and Lafia centres, in Nassarawa state, in the Northern part of Nigeria.
Flagging off the training ceremony, Mr. Nura Alkali, Permanent Secretary of the Ministry, who ably represented the Minister of Humanitarian Affairs congratulated the 467,183 trainees who indicated interest in the NEXIT CBN AGSMEIS programme from the 500,000 batches A and B exited beneficiaries.
Also read: Mixed method of Survey in Research
The Minister stated that it has been his desire to see that the exited batches A and B N-Power graduate beneficiaries will be adequately supported to ensure that they don't just become employed but to make them employers of labour. It was in the interest of achieving this objective that the ministry engaged with the Central Bank of Nigeria to formulate an intervention program which resulted in the NEXIT program. "Today marks the beginning of the fulfilment of this awaited training that will enable those beneficiaries that indicated interest to participate in the CBN empowerment programme, Mr. Alkali enthused.
Speaking at the program, the Group Managing Director, Mr. Godfrey Ajayi Sunday appreciated the Ministry of Humanitarian Affairs for the opportunity to once again bring the company's experience to bear in the entrepreneurial training and mentoring of Nigeria's teeming youths, he encouraged the beneficiaries to take advantage of the world class services that G-consulting offers and ensure that they achieve the objective of becoming employers of labour as the minister has explained.
Also read: HOW TO SELECT THE SAMPLE AND CALCULATE SAMPLE SIZE FOR SURVEY
You will recall that N-Power was created by President Buhari led administration on the 28th of June 2016 to contribute to reducing the increasing youth unemployment and underemployment in the country. Domesticated under the National Social Investment Program, the program has provided stipends for over 500,000 Nigerians. As means of ensuring a sustainable outcome, the NEXIT component was introduced to provide access to loan for beneficiaries to start up their business. Under the arrangement, out of the 467,183 trainees who indicated interest, 75,600 are to participate in the first phase of the orientation programme expected to lead up to collection of loans of up to three million Naira from the Central Bank of Nigeria if they qualify.